Bi

g

&Stron

g
cat climbing posts
Exclusive to CATFENCE
Made in New Zealand
Wide range of models
Developed for our own cats and kittens (see video)
A climbing/scratching post encourages your cat to stretch and climb, while letting them enjoy the sensation of scratching – without damaging your furniture, carpets or window coverings.
We admit our climbing posts aren't the prettiest, but we guarantee they are

Bi

g

&Stron

g!
Why we decided to build cat climbing posts
1) It's hard to find a simple, store-bought scratching post that's tall enough for a cat to stretch. Even if the overall height isn't too bad, the actual height that a cat can use is often quite limited, due to the complexity of the post (too many perches, steps, ladders, etc.).
Our posts, by contrast, are extremely simple and big – ranging from 1.2m to 1.8m tall. In our cattery we have seen the tiniest kittens bound straight to the top of tall posts – they love being able to climb!
2) Store-bought scratching posts are often overly complicated, poorly built and quite expensive.
We've bought many climbing/scratching posts over the years. In our experience, they may look nice in the store, but the cats often have them shredded in a matter of months.
We decided to design and build scratching posts for our cattery. When our customers saw ours, they wanted them too, so now we offer a variety of models, shown below.
Not fancy, but built to take abuse!
All our poles (the vertical piece) are solid pine, with MDF bases (the weight adds to stability) and lightweight plywood platforms. Posts are covered with carpet treated with catnip to entice your cat.
We paint the bases before adding carpet so they cannot absorb liquids spilled onto them or onto the floor.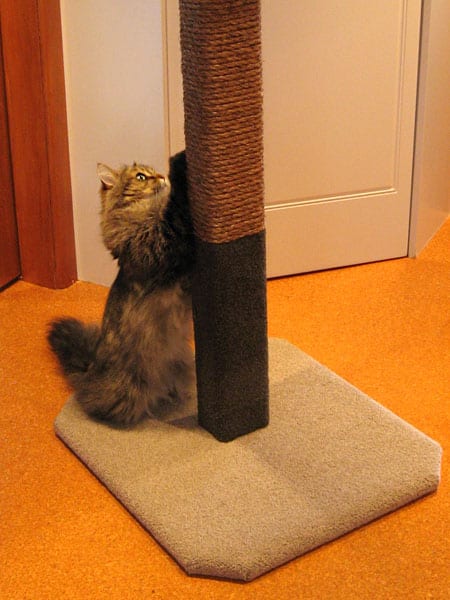 Cats love our climbing posts
"The scratching post we bought from you is absolutely fabulous. Saffy hasn't even looked at our furniture since the post arrived, and loves to sleep and play on it. She supervises our dinner time from there most nights."
– Rebecca, owner of a Super 1 climbing post
Warranty
All our posts have a 3-year warranty against defects in materials and construction. After a few years of constant use, your climbing post may start to look a bit ragged, at which time we are happy to quote on replacing the carpet and manila rope. The rest of the post should last indefinitely.
Current waiting time
This item will be ready for shipment or collection within 9 weeks of receiving your payment.