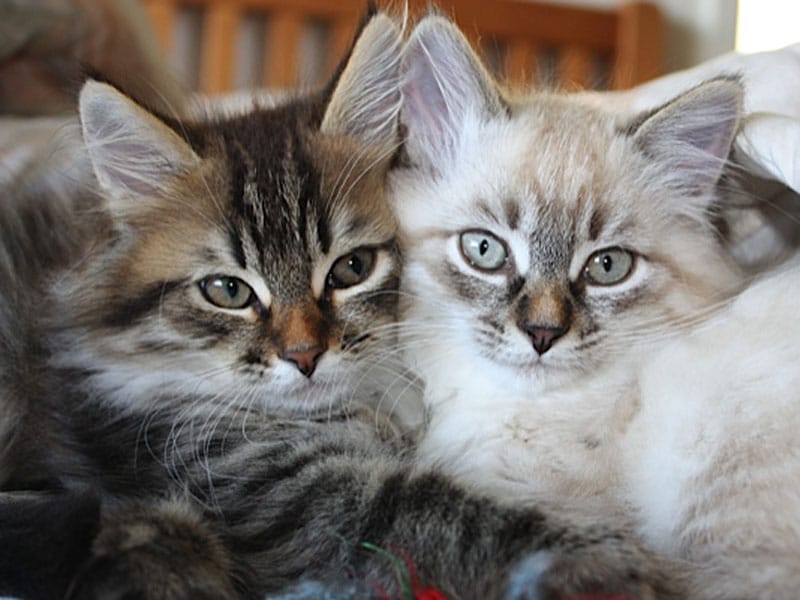 About Us
Why cat safety and wellbeing are so important to us
We have always been cat people, and for several years we bred
low-allergen Siberian cats
in New Zealand. It was wonderful to be able to provide beautiful kittens (see the gorgeous pair above) to families with severe allergies who could not otherwise have a cat.
As intact breeding animals, our cats obviously could not be free-roaming. And now that they are neutered and retired, they are happy to continue as stay-at-home pets.
But there are other reasons why we don't allow them to roam.
We know that cats who roam have a much shorter life expectancy than home cats, due to disease, traffic accidents and getting into fights.
Many people get very angry when cats wander into their property, especially their gardens.
We don't want our cats killing birds or other wildlife.
We do a lot to keep our cats healthy, active, stimulated and happy – and we believe they have a great quality of life.
Based on our experience, we encourage people not to let their cats roam.
In 2015 we heard about the Oscillot® system, and it impressed us in many ways, such as:
It's ingenious but simple
It's very well made from quality materials
It's easy to install
It's almost unnoticeable
The product and the manufacturer get wonderfully positive reviews, and our experience dealing with Bec at Oscillot was every bit as good as those reviews suggested.
So that's how we became distributors of Oscillot® in New Zealand.
We are confident this is an outstanding product and we aim to provide the same excellent customer service in New Zealand that Bec and her team have demonstrated in Australia.
If you are thinking of how to keep your cat safely on your property, please contact us for a chat.
Best wishes,
Neil & Judee
catfence.nz
Auckland, New Zealand