Our Basic climbing post is 1.2m tall, but still tall enough to give your cat plenty of room to stretch and scratch.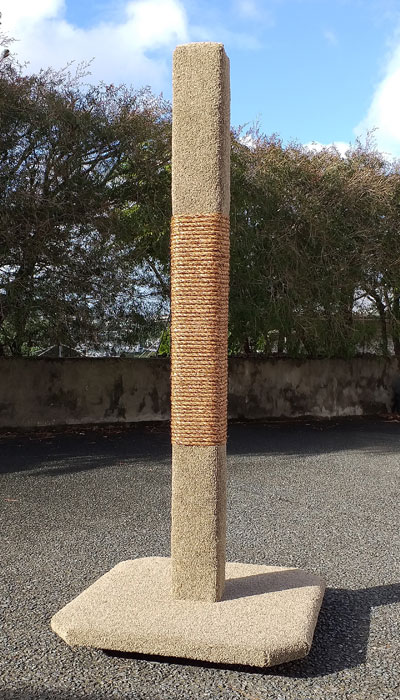 Solidly built in New Zealand, the Basic climbing post is designed for smaller homes, but still provides plenty of height for cats that like to stand and scratch.
It features a heavy base for stability and a wrapping of manila rope.
Dimensions in millimetres:
Height overall: 1200
Base: 520 x 520 x 18 MDF (sealed so it won't absorb spilled liquids)
Post: 1180 x 90 x 70 kiln-dried pine
Carpet: Specially treated with catnip
Rope: Genuine manila, covering 450mm of the post
Assembled weight: 10kg
Shipping dimensions (sent in 2 packages):
550 x 550 x 5 x 5kg
1200 x 110 x 100 x 7kg
Why we think these posts are simply the best
Our posts may not be the prettiest climbing posts but they are built BIG (so your cat can stretch while scratching) and STRONG (they take the abuse so that your furniture doesn't). We don't use cardboard or cheap fabric coverings which your cat can shred in a few months.
Quick assembly
Posts are shipped with fasteners and tool, and take only a few minutes to assemble.
If you're picking up your post from us in Auckland, we can assemble it, or partially assemble it, for you. Just let us know on the order form.
Made for you
Our workshop in Auckland is very small, so all posts are made to order. Your post will be ready within two weeks of receiving your payment (minimum $100 deposit required when placing order).
Warranty
Our posts have a one-year warranty against defects in materials and construction. After a few years of constant use, your climbing post may start to look a bit ragged, at which time we are happy to quote on replacing the carpet and manila rope. The rest of the post should last indefinitely.