CATFENCE is the exclusive New Zealand distributor of the OSCILLOT® system.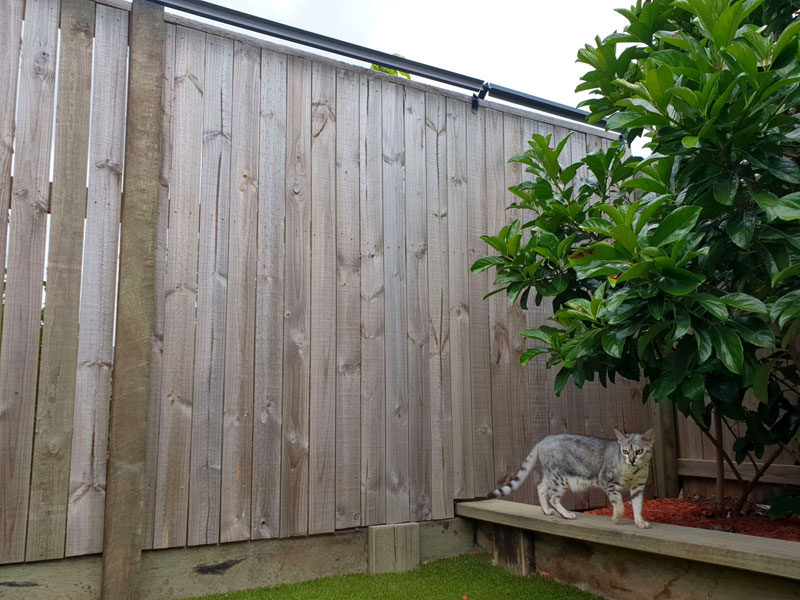 Frequently Asked Questions
Things you might have been wondering about the Oscillot® cat fence system
If you can't find your answer here, please contact us.
Is there a minimum height at which the Oscillot system must be installed?
Yes, for average cats we recommend that the Oscillot system be installed on fences at least 1.8 metres high. If your fence is shorter, you can install fence extensions, trellis or acrylic panels to increase the height and then install the Oscillot paddles on top. For exceptionally agile cats, such as Bengals, we suggest a height of at least 2m.
How do I measure my yard for the Oscillot System?
Please visit the How to Buy page for an illustration showing how to measure your yard for the Oscillot system. If you are still unsure, we are happy to review your fence photos and drawings (here's how to get help).
Do I need my neighbours' permission to install Oscillot on top of a fence we share?
We recommend that you obtain agreement from your neighbour if you plan to install the Oscillot system on top of a shared fence. Oscillot is very unobtrusive, and will keep you cat from roaming onto your neighbour's property. If getting permission isn't possible, you could consider installing Oscillot on the face of the fence, so that neighbours cannot see it, or creating a fenced area within your yard. See our Oscillot Photos page for some ideas.
Do I have to get Council approval to install Oscillot on top of my fence?
Generally you should not need Council approval to install the Oscillot system on top of your fence as long as you are not exceeding the maximum height permitted. If in doubt, please check with your Council.
Is the Oscillot system suitable for all types of fences?
Although Oscillot is suitable for installation on most types of fences such as steel, aluminium, timber, masonry and brush fencing, it is not effective on tubular and wrought iron fences if the spacing between the vertical tubes allows an easy escape for a cat. For more information see Fence Requirements.
Is there a guarantee that my cats won't escape my yard if I have the Oscillot system?
The Oscillot system is a safe and effective way to prevent your cat from scaling your fence if installed correctly on suitable fence types. However, installing the Oscillot system alone may not always prevent your cat from escaping. You need to take into account the variables that may be present in your yard such as trees and other objects near the fence, gaps under the fence, etc.
Can I get Oscillot installed for me if I am not able to do it myself?
We recommend contacting the Hire-A-Hubby service which is available in most parts of New Zealand. Alternatively your local handy person should be able to install the system for you following the instructions we provide. They will need a drop saw with aluminium-cutting blade for best results.
Is there a warranty on the components?
Yes, there is a 3-year warranty on the Dual Knuckle Post Kit and the Paddle. This warranty covers manufacturing faults and workmanship. This warranty does not cover general environmental wear and tear. In outer urban and rural areas the materials used in the Oscillot system may have a life span in excess of 30 years, but this can be significantly reduced by corrosion from salt particles or acid-laden fumes in coastal or industrial environments. We recommend that you regularly wipe down the paddles and end posts, at least once every six months, or more often if you live in a coastal area.
Can't find the answer to your question?