Oscillot® is a proven system, made in Australia since 2007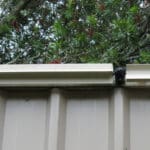 We are huge fans of the Oscillot cat containment system as it allows our two Ragdoll cats safe outdoor roaming. Neil is so great to deal with, he is punctual, did an excellent job and is a very tidy worker. He fixed our existing Oscillot system which was installed by another builder (not affiliated with the Oscillot company) which had not been installed properly. We can highly recommend Neil and this form of cat containment, and wouldn't hesitate to have more installed.
– Katrina, Auckland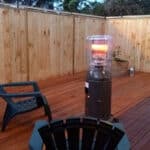 Just wanted to tell you the Oscilot looks like a winner for my Burmese. It's installed and I've had 3 days of testing and no escape. It's the best investment I've made and we are so happy with the results. So glad I found you guys. ?
– Fleur, Whangaparaoa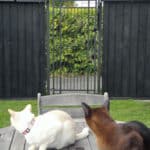 We built a 'catio' (an enclosed yard in which our cats could run about without escaping to the outside world) after a much-loved cat was run over on the street outside our house. The Oscillot is a very important part of this, as it prevents the cats from running straight up the wooden fence and jumping on to the top. It is effective, and not obvious at all unless you walk right up to the fence. We now have two safe cats who love playing in the catio, no outside cats visiting our front yard, and a whole lot of grateful neighbourhood birds to boot, so we are very happy.
– Janet, Auckland

I found installing the paddles very simple and it was instant reaction with our little Molly. She tried immediately to jump over the gate/fence and was unable to get a grip. She hasn't tried to get up that high ever since – so I haven't been able to take any photos or video. It has made a huge difference for us without having to worry about her getting out of the property. Thanks heaps for your service.
– Garry, Thames
The following review with video was uploaded to Youtube on 14 July 2011:
Anyone that owns a Bengal cat will know that they are incredibly agile. I didn't expect my two boys at 19 weeks to be capable of scaling a six foot fence but they did! Long story short they escaped (and thankfully were recovered after a bit of running around) but I needed help to contain them. Oscillot Cat Containment Systems provided the answer.
More reviews from Oscillot® customers can be read on the manufacturer's website.
Review us on Google (you will need a Google account) or send us your feedback.