To order your Oscillot® cat fence system, we suggest you follow these steps:
Step 1: Get to know the Oscillot® System components
Paddle Kits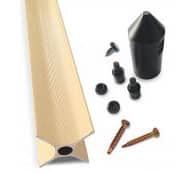 Paddles are 1.987m long (a little over 2m when the Dual Knuckle Post is included) aluminium extrusions available in Merino or Slate Grey colour. Each Paddle Kit includes one Paddle and one Dual Knuckle Post Kit.
$83.50 ea (ex GST)
Dual Knuckle Post Kits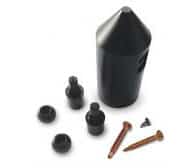 Although each Paddle comes with one Dual Knuckle Post Kit, you will need an additional one as the final post for each fence run (see Step 2). You will also need extra Dual Knuckle Post Kits when using off-cut Paddle sections.
$32.75 ea (ex GST)
Standoff Brackets (optional)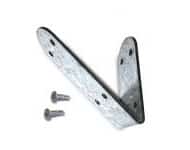 Use brackets on the following fence types:
* Post and Rail Fencing with a horizontal rail within 400mm of the top of the fence
* Vertical Paling Timber Fencing
* Horizontal Paling Timber Fencing
* Brush Fencing
$8.35 ea (ex GST)
Special Notes
Other materials may be required to ensure your cat cannot jump over the Oscillot® System. See our Special Installations photos for examples.
Due to their extreme agility, Bengal cats may require extra cat-proofing measures, contact us if you would like to discuss cat proofing your yard for your Bengal cat.
---
Step 2: Measure your fence and work out your requirements
Use the following illustration to guide you in calculating how many Paddle Kits and Dual Knuckle Post Kits you'll need. If your situation requires Brackets, you'll need one Bracket for each Dual Knuckle Post.
Tip: You can click on the illustration to enlarge it.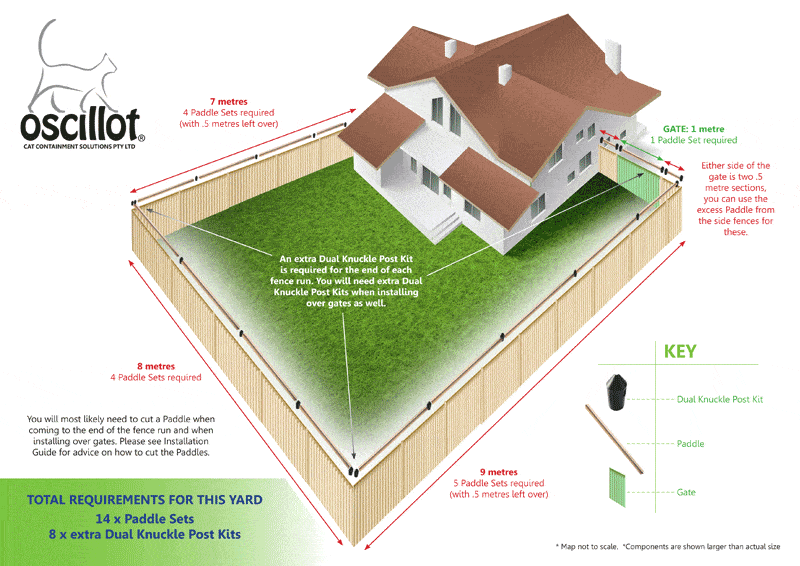 ---