The Oscillot® System is simple, ingenious, and effective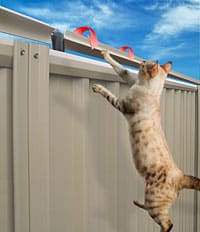 Oscillot® was invented by Australian Paul Bok in 2006. Paul noticed a lack of options for cat owners to keep their beloved feline friends safe at home. The only options on the market at the time appeared to be either cages or netting. And let's face it, who wants to turn their yard into a prison?
The Oscillot® System consists of a series of aluminium paddles, which are mounted on top of fences that meet the necessary standard. When a cat tries to jump and scale the fence, they will place a paw on the paddle, which then spins so that they cannot get traction (see the video at right).

The Oscillot® System has several advantages over alternative cat containment approaches
There are no unsightly cages or netting. In fact, the Oscillot® System is hardly noticeable.
There are no wires or power supplies as in electric systems – and no worries about your cat escaping during a power cut.
Oscillot® is durable. The paddles are made from aluminium, and professionally powder-coated. The Dual Knuckle Post Kit is made from acetal, a very durable plastic able to withstand weather extemes. All components are made in Australia.
Oscillot® is ideal if you want to keep your cat safely at home, away from dangers such as:
getting lost
being hit by a vehicle
being attacked by a dog or another cat
being stolen
eating poisoned bait
being impounded
Important info: