The Mega Scratcher Cat Climbing Post is for REALLY BIG cats such as Maine Coons.
Like our Super series posts, the Mega 1 post is 1.9m tall. But the upper platform and base are larger.
Base: 700mm x 700mm, 18mm MDF (painted so it will not absorb spilled liquids)
Post: 75mm x 100mm x 1.9m kiln-dried pine
Platform: 550mm x 320mm x 12mm plywood
Covering: Carpet treated with catnip
Rope: 8mm genuine manila, covering 500mm of the post
Assembled weight: 20kg
Shipping weight (sent in 2 packages):
a) 0.75m x 0.75m x 0.07m x 10.0kg
b) 1.90m x 0.10m x 0.08m x 9.5kg
Price: $370 including GST, if picked up in Auckland, or we can ship throughout New Zealand. Please contact us for shipping costs.
This post is also available in 2-platform and 3-platform versions.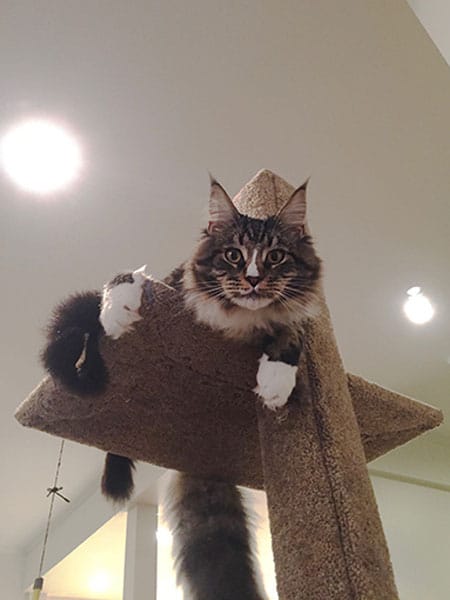 About our climbing posts
Our posts are built to order, using all-new materials. They may not be the prettiest climbing posts but they are built BIG (so your cat can stretch while scratching) and STRONG (they take the abuse so that your furniture doesn't). We don't use cheap fabric coverings which your cat can shred in a few months.
Warranty
All our posts have a one-year warranty against defects in materials and construction. After a few years of constant use, your climbing post may start to look a bit ragged, at which time we are happy to quote on replacing the carpet and manila rope. The rest of the post should last indefinitely.